Evergreens in Black & White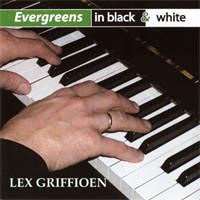 Op veler verzoek heeft Lex een cd opgenomen met daarop een paar van zijn mooiste nummers. Enkele fragmenten van deze nummers kunt u hier alvast beluisteren.
Only love (Nana Mouskouri)
Morning has broken (Cat Stevens)
She (Herbert Kretzmer / Charles Aznavour)
Netherlands (Dan Fogelberg)
Memory (Andrew Lloyd Webber / Thomas Stearns / Trevor Nunn)
Perhaps love (John Denver)
We all stand together (Paul McCartney)
Once upon a time in the west (Ennio Morricone)
My way (Claude Francois / Jacques Revaux)
Lady of the dawn (Mike Batt)
When I'm sixty-four (John Lennon / Paul McCartney)
Nine million bicycles (Mike Batt)
L'oiseau et l'enfant (Jean-Paul Cara)
Summertime (George Gershwin)
Dromen zijn bedrog (John Ewbank)
Non je ne regrette rien (Charles Dumont / Michel Vaucaire)
Somewhere over the rainbow (Harold Arien)
Telkens weer (Ruud Bos)
Time to say goodbye (Francesco Sartori / Lucio Quarantotto)
We'll meet again (Ross Parker / Hughie Charles)
Leuk als cadeautje of als aandenken aan een geslaagd feestje!